Dogs have a special way of making people smile and to feel better about themselves and their circumstances.  For these reasons therapy dogs have played a crucial role in many hospitals, senior-care facilities, children's programs and universities.
The gentle presence of a loyal dog offering up unconditional love and affection to those hurting, stressed or lonely is perhaps one of the best forms of medicine with no unpleasant side effects (except for maybe too many wet nuzzles).
Although these canine companions enjoy their missions-of-joy, their task is still a job and one that requires training and commitment on both the animal and the handler or pet parent's behalf.  Let's take a peek into a day-in-the-life of hard working therapy dogs.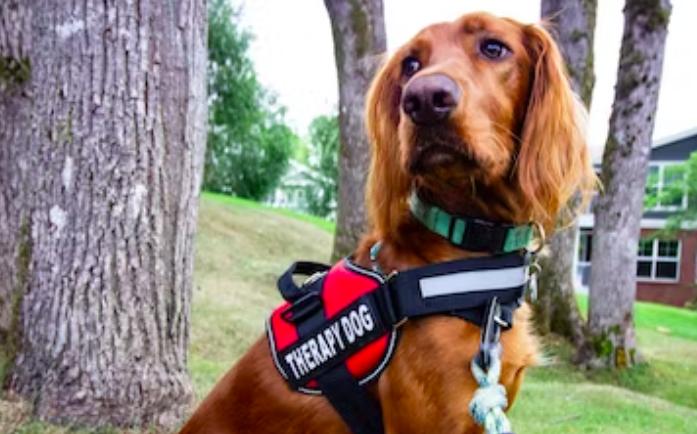 Task One: Getting Ready
Before the dog is ready for therapy it must first be trained in obedience. This usually starts when the dog is young or has the skills necessary when it is older to be patient and calm around people and busy situations.
A therapy work day starts off for most canines by getting physically ready. Before the pet can go into a hospital or care-facility, it must be bathed to ensure it is free of parasites, dirt, grime or other "contagions."  
This includes having a bath with its face washed, ears cleaned and nails trimmed (if necessary) to prevent accidental scrapes.  The dog will also wear a vest to identify it as a therapy dog, allowing it access to the lobby of the facilities and the patients' rooms.  
Task Two: Travelling
Whether by car, bus, bicycle or motorcycle therapy dogs must be able to endure (sometimes) long rides to get to their visitation locations. Well trained and sensitive animals will know by the words spoken by their pet parent, or by the donning of the therapy vest, that it's time to go to work.  
Although, these loyal canines have no idea of the importance their job holds for those in their "care", they do know it's a time for being in the presence of kind people who just want to greet them with warm smiles and a gentle pat on the head.
Task Three: Spreading Some Furry Love
Once in the center dogs immediately go to work. This can include visiting with sick patients in chronic care units, cancer wards, retirement facilities, or those folks with general illnesses or injuries.  Therapy dogs enjoy the attention lavished on them and welcome the chance to be loved by everyone in their path.
When the dog is with a patient it will lay its head on the lap to be stroked or even offer more fuzzy-support by being next to the bedridden person. This side-by-side therapy is particularly helpful to those who cannot sit up, children or all those who request it.
Therapy dogs are trained for both options, but will usually only climb onto the bed if invited to do so. Smaller dogs may be held by the patient or long-term resident for an even closer bonding session.  
Pit Stop: School Buddies
Some therapy dogs spend their time being a buddy to reluctant grade-school readers.  This program gives the child an opportunity to practice his or her reading skills without the pressure, judgement or embarrassment of being in front of their peers.  
The therapy dog's role in this situation is to lay quietly by the child's side while he or she is seated on the floor.  The child will then select a book to recite out loud to their doggy companion.  Schools in many areas are enlisting the help of canine-listeners and are noticing marked improvement in their student's interest in reading.
University students are also enjoying the benefits of therapy dogs. These canines are trained to help young adults cope with the everyday stresses of college life by offering love and support in the form of snuggles, nuzzles, wet kisses or just being there to lap up some love.
Task Four: Doggy Time
After a long day of spreading the love therapy dogs deserve a treat for a job well done.  Once the dog leaves the hospital, school or nursing home and their therapy vest comes off, canines know it's time to go home or to embark on a fun treat.
Pet parents use various methods of rewarding their dogs like a fun romp in the dog park, a delicious snack or a fun toy.  Making the canine's "me time" special allows the dog to unwind after the day and shows them they did a good job…now all that's left is a cool drink of water and a long nap.
Does Your Canine Have What it Takes to Be a Therapy Dog?
Pet therapy is a noble and worthy cause that may be of interest to those people (with pets) that love to offer support and care to the sick, disabled or hurting.  Here are a few things to keep in mind if you are considering pet therapy.
Personality
Just as not all humans are cut out to be all things, not all dogs are cut out to be in therapy. One of the most important qualities in a suitable therapy canine is its personality.  Therapy dogs must exhibit a loving and gentle nature first and foremost.  The most recommended breeds for pet therapy are;
Golden Retrievers

Labrador Retrievers

German Shepherds

Greyhounds

Beagles

Pomeranians

Poodles

Pugs

French Bulldogs

Saint Bernard
Although these breeds are more likely candidates for doing well as therapy dogs, that doesn't mean other breeds or even mixed-breeds aren't well-suited for the task.  
Volunteers also play a crucial role in pet therapy and must want to spend time with people-in-need, without getting anything monetary in return.  However, a gentle smile, a kind word or even just having someone to share a conversation with all makes pet therapy a rewarding experience for the recipient and the volunteer.
Training and Commitment
We wouldn't jump into a job without training and the same applies for pet therapy.  Dogs in this role must be well-trained and responsive to its handler's commands such as sit, stay, come and down. It cannot pull on it's leash, jump on people or become overly affectionate.  It has to be calm in busy or distracting situations, without becoming panicked or aggressive.  Therapy dogs must also endure the clumsy handling of children, the elderly or those suffering from disabilities.
Commitment is also a huge part of dog therapy. Patients, especially those in long-term care facilities, create bonds with these furry ambassadors and look forward to their visits, so a commitment on the part of the pet parent is a necessary and a vital component.  Building these relationships (not only canine-to-patient but also volunteer-to-patient) is a rewarding experience that can last for days, weeks, months or even years.  
There's no substitute for honest-to-goodness unconditional love and who is better suited for this task than man (and woman's) best friend? Therapy dogs are hard working creatures who do this amazing job for a simple hug or a kind word, but ask a patient who has experienced pet therapy and they may just tell you, it's life saving…