Pygmy goats are great pets for the right pet owner. Gentle, loving and docile, the pygmy goat is ideal for children as well as adults.
There is never a dull moment with a pygmy goat as you watch them jump and play, but this fun loving goat isn't for everyone.
Keep reading and find out if you can handle having a pet pygmy goat.
The Pygmy Goat:
The pygmy goat is about half the size of a regular sized goat, weighing from about 55 to 75 pounds.
All goats are hardy and the pygmy is no exception with the ability to adapt to any environmental climate.
Female pygmies can be milked and bear between 1-4 babies every year.  
Housing:
The average dog weighs about 75 pounds, so you may be tempted to try and house train the pygmy.
However, anyone who has ever tried to house train this goat will tell you it is impossible to keep them in the house. Aside from the fact that goats eat everything but the kitchen sink (not an exaggeration here) they also have the inability to control their bathroom habits.
So if you have your heart set on an indoor pet, you may want to pick a pet you can train, like a dog or cat.  
The pygmy goat is a herd animal, meaning that they get lonely if left by themselves. Therefore, it is best to buy more than one goat or place the goat with one of your other pets for companionship.
The great thing about keeping a pygmy goat is that they do not need a lot of space. Just a shed for sleeping and a grassed area about eight foot by ten foot for roaming is all they need.
The shed should have bedding that is cleaned once a week or every two weeks.
The area to be roamed should be fenced with fences high enough to keep these spirited jumpers inside the fence. A fence about four foot high should do the trick of keeping these little guys in their place.
Feeding:
Pygmy goats are grazing animals, spending long hours of the day eating a variety of roughage including; dry leaves, brush, bark and grass hay.
Not all pet owners can provide this type of diet for their pet goat, so a goat mix feed should be put in place.
Feeding 2-3 ounces of goat feed twice a day should be quite suitable for the pygmy, but make sure to read to bag feeding instructions.
It is important not to overfeed your pygmy, as overfeeding can lead to health problems such as scouring and obesity.
Pygmy goats make great lawnmowers and the fresh grass is an excellent addition to this goat's diet. However, beware of plants poisonous to the pygmy such as fir trees, laburnum, rhododendron and yew.
Minerals should also be included into the pygmy's diet.
A mineral block, available at any large pet or farm store, should be placed in a dry location where the goats can easily reach it.
Health Care:
Pygmy goats have very few health care requirements, but there are a few basic hygienic care requirements pet owners must do routinely.
Vaccination:
Pygmy goats should be vaccinated against tetanus, pulpy kidney, enterotoxemia and other illnesses common in your geographic location.
Ask your vet for recommended vaccinations and the schedule in which you are to have your pet goat vaccinated per year.
Parasitic De-Worming:
Pygmy goats, as all other herbivores, have a tendency to contract parasitic worms.
Therefore, administering worming medicine to your goat twice a year will rid your pet of stomach and gastrointestinal parasitic worms.
Talk to your veterinarian about your worming needs and the appropriate medicine to give your pet. Worming medication is easily administered by mouth and can be given at home.
Hoof Trimming:
Just like the human fingernail, the hooves of a pygmy goat grow continuously and will require trimming about every six to eight weeks.
Due to the pygmy's small size, hoof trimming is relatively easy. Hoof trimmers can be purchased at a local farm store or online.
Financial Implications:
Like any pet, you must consider the amount of money that will need to be spent on the animal before purchasing. Here are some financial implications everyone should consider before buying a pygmy goat:
Cost of buying a Pygmy goat: $75-$300.

Health certificate required for transport: $50.

Newly constructed shelter: $300-$600

Bedding: $10 per month.

 

Hay: 40-pound bale. $4.00-$8.25. (last about 2 weeks)

 

Goat feed: $12-$30.

 

Annual Veterinary costs: $50-$250.

Hoof trimmers: $20.

Worming medication: $15.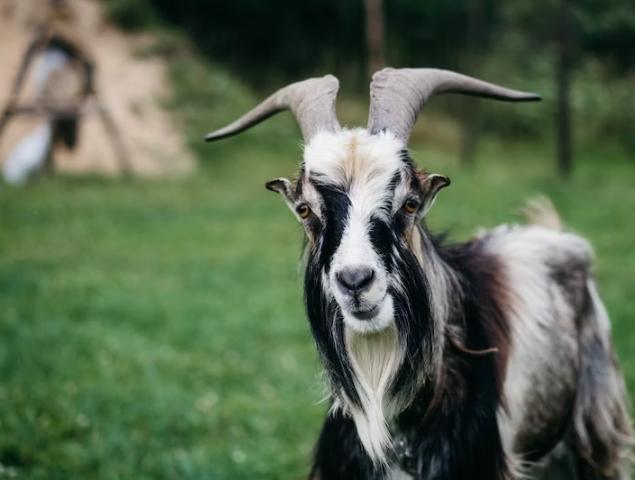 Legal Requirements:
Although Pygmy goats are seen as a pet, they are considered livestock by law and require owners to obtain the following before/upon purchase of the animal:
1. You must obtain a property number from your local DEFRA Office.
There is no charge to obtain this number, but it is required to hold animals on your land.
2. Each goat must have an identification number.
Identification numbers can be in the form of a tattoo or ear tag. This action is the responsibility of the breeder, but as the buyer, you must see it though.
Goats that are not identified and transported is an illegal act.
3. Obtain a Movement License.
Upon purchase of the goat, the breeder will complete a form of their license to give to you.
As the new owner, however, you will need to obtain your own book of movement licenses from your local Trading Standards Office.
You must fill out one of these blank Movement Licenses whenever you move your Pygmy and send a copy to the Trading Standards Office once your travels are complete.
There is a lot more to owning a Pygmy goat than you thought.
Although it may seem like a lot, most of the expenses and legal requirements are only necessary in the beginning.
Once you have your goat, everything he or she needs and your legal documents, the expenses are quite minimal.
Of course, not every budget or every lifestyle meets that of a Pygmy goat ownership.
With the information you have found here, you can now make a well thought-out decision on whether or not you can have a pet Pygmy goat to add to your family pets.